Robotic Assisted Knee & Hip Replacement
Total Knee Replacement
Knee and Hip Replacement Surgery.
Knee and hip replacements are common, successful surgical procedures where the worn out, damaged surface of the knee or hip surface is removed and replaced with an artificial joint. Approximately 160,000 hip and knee replacements are performed in England and Wales each year.
Do you need Knee or Hip replacement Surgery?
You may need joint replacement surgery if you are experiencing increasing symptoms of pain, awareness of discomfort which interferes with your quality of life and day to day activities.
Why Robotic-Assisted Joint Replacement?
Patients' expectations of outcomes after surgery have increased significantly since Knee and Hip replacements were developed in the 1970's and 1960's. The ultimate goal of knee and hip replacements is the 'forgotten joint', or a normal feeling knee or hip joint after surgery. Advances in medical care, design and implant material combined with precise and accurate implantation of the prosthesis increases the likelihood of a normal feeling knee or hip joint.
Winston Kim, FRCS(Orth) Consultant Orthopaedic Surgeon, performed the first robotic assisted knee replacement in the North of England using the Navio™ Robot assisted system, in March 2018, was the first Surgeon in the North West to complete both Robotic-arm assisted total hip replacement (MAKO, Stryker) and robotic assisted knee replacement (Navio). He currently has the largest series of robotic assisted joint replacement (Knee and Hip) in the North-West. He was the first to perform robotic assisted partial knee replacement (MAKO, Stryker) in the North of England.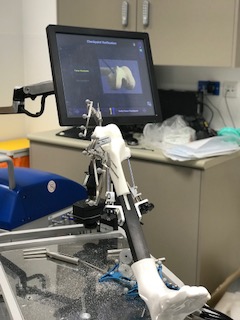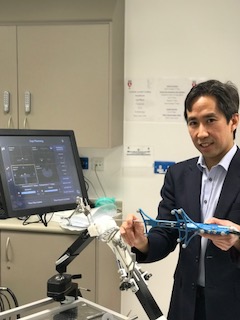 Working with leading colleagues, Winston Kim has earned a reputation for providing excellent care to patients in the Greater Manchester region. Leading the way, Mr Kim has been selected by industry experts Smith and Nephew and Spire Manchester Hospital to become the first surgeon in the north of England to offer the pioneering new NAVIO system.
Mr Kim performed the first robotic assisted knee replacement in the North of England in Spire Manchester, which is also one of the first hospitals in Europe to perform surgery using this ground-breaking technology. The NAVIO system minimises the amount of bone removed from the damaged knee and positions an implant in exactly the right place, allowing for optimum stability and increase the potential for a natural-feeling knee for patients.
The key difference between the NAVIO and other robotic-assisted tools is removing the requirement for a pre-operative CT scan, eliminating radiation exposure and minimising delay to surgery, whilst producing an image of the native knee during surgery, with this new cutting-edge technology. With NAVIO, a probe is used in place of a CT scan, which provides a 3D 'roadmap' of the knee into a computer, so the surgeon has all the information required for a specific surgical plan that is unique to each patient.
During the surgery, the computer feeds information about the knee to the surgeon so that they can accurately remove damaged bone. If the tool is passed over a part of the knee that does not need removing then the cutters automatically stop, and only begin again once it reaches a part that has been mapped out for removal. If you'd like to see exactly how this equipment does its job there is an animation at the bottom of this page!
Mr Kim explained: "It allows for a more precise and accurate knee replacement implant placement, tailored to the patient's anatomy and alignment. This increases the likelihood of a more natural-feeling knee after surgery. The modern knee is not just about improving pain, it should have the potential to allow patients regain an active lifestyle. I believe this technology will also have the potential to reduce the requirement for re-do surgery and increase the lifespan of the knee replacement, when combined with improved knee implant design and materials, appropriate patient selection, preparation before surgery and enhanced recovery techniques after surgery…."
Our team of expert physiotherapists provide comprehensive pre-habilitation programmes to help strengthen the limb before surgery to improve recovery. Using the onsite gym and hydrotherapy pool, the team will also provide support to the patient rehabilitation following surgery.
If you'd like a consultation, call us on 0161 447 6753. If you're insured, call and advise your insurance company that you're arranging an appointment with Mr Winston Kim, GMC number 4289919, as you'll need an authorisation code to book your appointment. Robotic assisted surgery is covered by most insurers using a standard knee replacement code. If you're self-funding, the office will inform and e-mail you of costs involved.
Benefits of robot-assisted surgery:
• CT-free technology
• Creates a more "normal" feeling knee
• Improvement in recovery times
• Less removal of healthy tissue
• More precise placement of implant
We look forward to hearing from you, and getting you back on the path to being pain free, or improvement from your current symptoms.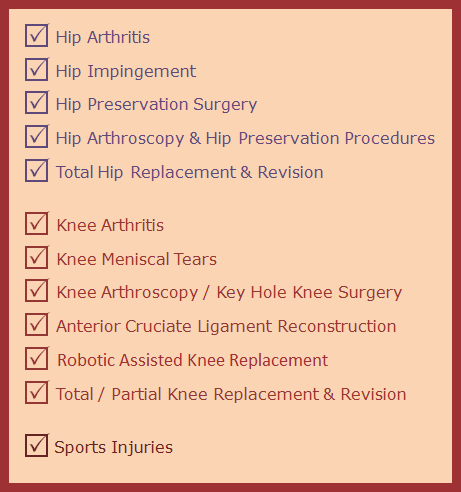 Read independent reviews for Manchester Hip & Knee Clinic:
⇛ Google Reviews
⇛ I Want Great Care
⇛ Rate MD's
⇛ Good Doctor
⇛ Doctify
⇛ Three Best Rated
⇛ Doctor Testimonial
First Robotic Assisted Partial Knee Replacement in the North of England