Mr Winston Kim

MBChB, MSc, FRCSGlasg (Tr & Orth)

Consultant Orthopaedic Surgeon, Specialist Hip &
Knee Surgeon, Private Orthopaedic Surgeon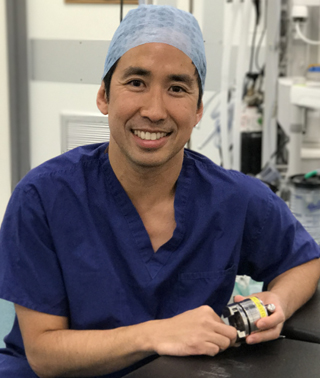 Mr Winston Kim, FRCS (Orth), Consultant Orthopaedic Surgeon is a specialist Hip and Knee Surgeon. He has performed one the largest number of Robot assisted hip and knee replacements in the United Kingdom (total of more than 1000 cases, largest number performed in the United Kingdom, Year-end 2022, with over 300 cases, Stryker UK data). Many consider robot-arm assisted joint replacements to be transformative, leading edge technology in joint replacement surgery of the hip and knee.*
The focus of his practice is on arthritic conditions of the hip and knee, from early to severe hip and knee arthritis. His routine surgical practice is robot-arm assisted hip, knee and partial replacement surgery. In addition to more than 1000 robot assisted hip, knee and partial knee replacements, Mr Kim has performed over 2,000 conventional hip and knee replacements (Almost equal split of hip and knee replacements) .
Mr Kim graduated MB ChB from the University of Aberdeen in 1996. He completed higher specialist training in the North West Rotation in England, obtaining the FRCS (Orth). He underwent a further one-year sub-specialist training in Vancouver, Canada. He was awarded the British Orthopaedic Foundation Travelling Fellowship visiting the Mayo Clinic, Rochester, Minnesota, and the Hospital of Special Surgery (HSS) in New York City, USA. He was recipient of the PLUS Award to the Radboud University Medical Centre in Nijmegen, The Netherlands. He was appointed Consultant Orthopaedic Surgeon at Salford Royal University Hospital June 2006. He was an Honorary Clinical Lecturer in the University of Manchester and Honorary Senior Lecturer at the University of Salford. He is currently in full time private practice at The Alexandra Hospital, Cheadle and Spire Manchester Hospital.
Mr Kim pioneered Robotic-Assisted lower limb surgery in the North West. He was the first to perform robotic assisted partial (MAKO, STRYKER) and total knee replacements (NAVIO, SMITH AND NEPHEW) in the North of England. He was the first to complete the triad of partial, total knee and total hip replacement in the North West. He has one of the largest experience of robotic-assisted hip and knee replacements to date in the United Kingdom.
His practice has a heavy emphasis on clear decision-making tailored to the individual patient, outcome analysis and feedback from patients and from a multi-disciplinary team. The goal is to ensure the best possible care and outcome for each patient, every time and first time.
He has garnered several awards and prizes, including Prizes for Best Basic Science Research (Peter Mallimson Prize, Best Fellow Research Award UBC, Vancouver), Ronald Ravens Barbers Award, Current Concepts Foundation Scholarship and the Sir John Charnley Trust Award. He was awarded the Harvey Green Surgical Teacher Prize. He is a member of the British Hip Society (BHS) and British Association for Surgery of the Knee (BASK).
References:
Banks SA. Haptic robotics enable a systems approach to design of a minimally invasive modular knee arthroplasty. Am J Orthop (Belle Mead NJ). 2009;38(2 Suppl):23-27.
Suarez-Ahedo C, Gui C, Martin TJ, Chandrasekaran S, Lodhia P, Domb BG. Robotic-arm assisted total hip arthroplasty results in smaller acetabular cup size in relation to the femoral head size: a matched-pair controlled study. Hip Int. 2017;27(2):147-152. doi:10.5301/hipint.5000418
Kayani B, Konan S, Pietrzak JRT, Haddad FS. Iatrogenic bone and soft tissue trauma in robotic-arm assisted total knee arthroplasty compared with conventional jig-based total knee arthroplasty: a prospective cohort study and validation of a new classification system. J Arthroplasty. 2018;33(8):2496-2501. doi:10.1016/j. arth.2018.03.042
Hozack WJ. Multicentre analysis of outcomes after robotic-arm assisted total knee arthroplasty. Bone Joint J:Orthop Proc. 2018;100-B(Supp_12):38.
Hampp E, Chang TC, Pearle A. Robotic partial knee arthroplasty demonstrated greater bone preservation compared to robotic total knee arthroplasty. Poster presented at: Orthopaedic Research Society (ORS) Annual Meeting; February 2-5, 2019; Austin, TX.
Illgen RL Nd, Bukowski BR, Abiola R, et al. Robotic-assisted total hip arthroplasty: outcomes at minimum two-year follow-up. Surg Technol Int. 2017;30:365-372.
Kayani B, Konan S, Tahmassebi J, Pietrzak JRT, Haddad FS. Robotic-arm assisted total knee arthroplasty is associated with improved early functional recovery and reduced time to hospital discharge compared with conventional jig-based total knee arthroplasty: a prospective cohort study. Bone Joint J. 2018;100-B(7):930-937. doi:10.1302/0301-620X.100B7.BJJ-2017-1449.R1
Kleeblad LJ, Borus TA, Coon TM, Dounchis J, Nguyen JT, Pearle AD. Midterm survivorship and patient satisfaction of robotic-arm-assisted medial unicompartmental knee arthroplasty: a multicenter study. J Arthroplasty. 2018;33(6):1719-1726. doi:10.1016/j.arth.2018.01.036
Bourne RB, Chesworth BM, Davis AM, Mahomed NN, Charron KDJ. Patient satisfaction after total knee arthroplasty: who is satisfied and who is not? Clin Orthop Relat Res. 468(1):57-63. doi:10.1007/s11999-009-1119-9
Mahoney O, Kinsey T, Mont M, Hozack W, Orozco F, Chen A. Can computer generated 3D bone models improve the accuracy of total knee component placement compared to manual instrumentation? A prospective multi-center evaluation. Poster presented at: 32nd Annual Congress of the International Society for Technology in Arthroplasty (ISTA); October 2-5, 2019; Toronto, Canada.
Bell SW, Anthony I, Jones B, MacLean A, Rowe P, Blyth M. Improved accuracy of component positioning with robotic-assisted unicompartmental knee arthroplasty: data from a prospective, randomized controlled study. J Bone Joint Surg Am. 2016;98(8):627-635. doi:10.2106/JBJS.15.00664
Lonner JH, John TK, Conditt MA. Robotic arm-assisted UKA improved tibial component alignment: A pilot study. Clin Orthop Relat Res. 2010;468(1):141-146. doi:10.1007/s11999-009-0977-5