News & Media
Hand-held 'robot' puts Manchester hospital into euro top ten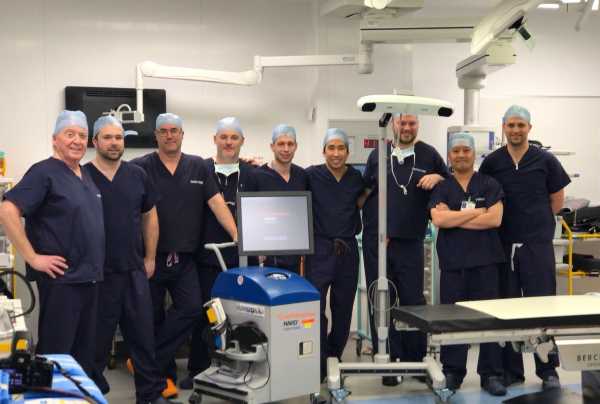 Spire Manchester Hospital has become the first hospital in the North of England – and one of only ten in the whole of Europe – to carry out a total knee replacement operation using the new Navio robot-assisted system.
Consultant Orthopaedic Surgeon, Mr Winston Kim carried out the joint replacement procedure using the hand-held NAVIO 'robot' which is in use at only three private hospitals in the UK.
Designed and developed by internationally renowned technology experts Smith and Nephew, the system allows surgeons to minimise the amount of bone removed from a damaged knee before positioning the new implant in exactly the right place to achieve optimum joint stability.
Littleborough mountain-climber on a high as he is first to have new robot-assisted knee replacement.
A Littleborough mountain-climber is on top of the world after becoming the first person in the North West to have a knee replacement operation carried out by the latest in robotic technology.
Rob Schofield, a fifty-three-year-old training and development manager, said he was happy to be first in line for the treatment following two years of knee pain that was affecting his outdoor lifestyle.
The Navio Robot-Assisted System at Spire Manchester Hospital is one of only three in operation throughout the UK. It takes away the need for a pre-operative CT scan to provide an image of the operation area.
The operation was performed by consultant orthopaedic surgeon Mr Winston Kim who explained: "The hand-held Navio allows a more precise and accurate implant placement, tailored to the patient's anatomy and alignment. This increases the likelihood of a more natural-feeling knee after surgery.
1st ROBOTIC ASSISTED PARTIAL KNEE REPLACEMENT IN THE NORTH OF ENGLAND
Video Testimonials
Winston Kim: career, clinical practice focus, the hospital and team
Knee Arthritis
Listen to a testimonial from a young patient who had a partial knee replacement
Knee Meniscal Tears
Robotic Assisted Knee & Hip Replacement
NAVIO TKA Animation