Private Hip & Knee Surgeon for Bury, Rochdale and North Manchester
If you reside in Bury, Rochdale or the North Manchester area and have been seeking a highly-reputable and experienced Consultant Hip and Knee Surgeon, Winston Kim, FRCS(Orth) and his specialist team at Manchester Hip & Knee Clinic are on hand and at your service.
The Clinic specialises in Robot-arm Assisted hip and knee replacements. This leading-edge enabling technology allows for better and precise planning before surgery, a customised surgical plan for the individual patient and the ability to very precisely and accurately reconstruct that surgical plan to fractions of millimetres. This means potentially quicker recovery, less pain, less risk of complications and a more naturally feeling joint that lasts longer, after you recover from surgery. For more information, please go to:
We are fully committed to providing a outstanding personalised level of high-quality care, advice and treatment – treatment which, more often than not, doesn't require actual surgery. If surgery is required, however, rest assured that you will be in expert hands.
Our team perform hundreds of procedures every year, and are dedicated to consistently achieving the best possible clinical outcomes for you.
Problems with your Knee, Hip or Groin?
Would you like to be seen at a time which is convenient for you by an experienced consultant surgeon who has performed thousands of hip and knee procedures?
If so, Manchester Hip & Knee Clinic provides the perfect solution for residents from Warrington and Knutsford areas.
We offer a full range of services from one of two locations: Spire Manchester Hospital or The Alexandra Hospital in Cheadle, Cheshire.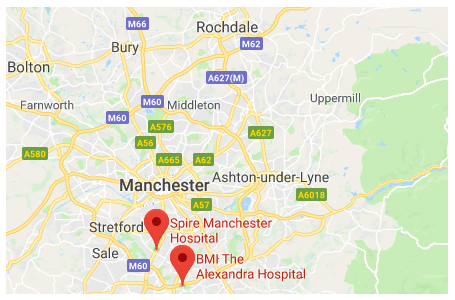 If surgery is required, you can be assured of outstanding clinical outcomes, reported to independent organisations such the National Joint Registry and validated, Patient Reported Outcome Measures (PROMs).
Get in touch now for an initial consultation.
We look forward to hearing from you, and getting you back on the path to wellness….